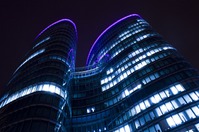 Event Management
The only difference in an event and an emergency is that an event is planned. We are a full service event production company, providing operational planning, logistical support & vendor management & event consultation. We can provide online registration, volunteer training, printed materials, and MORE!
Fire Watch
Fire watch allows buildings to be temporarily occupied when the fire suppression systems or the fire alarms are out of service. This is a requirement of the local fire marshal until the system is restored. Our staff can aid in preventing a fire from occurring; extinguishing small fires; aiding in the calm egress of the occupants and protect the public from fire or life safety dangers.
Red Teams
The term "Red Team" and the concept of Red Team exercises is nothing new. In short, a Red Team consists of an individual or team of people playing the role of an enemy. The enemy could be a person with criminal intent, a terrorist planning an active shooter attack or any other scenario you may need tested. We can help develop and implement a red team exercise that will help strengthen the overall security posture of your business.
Crisis Communications
When it comes to crisis management and communications, JMA provides crisis management, strategic communications, public affairs and public relations counsel to clients facing a broad spectrum of issues and challenges.
Executive Protection
Coming Soon.
Active Threat - How to Respond
Designed to allow employees to quickly determine the most reasonable way to protect your own life. Customers and clients are likely to follow the lead of employees and managers during an active killer situation. (3.5 Hours)
Disaster Preparedness Training
A workshop and discussion for employees to learn how to plan and prepare for disasters and emergencies. The purpose of this workshop is to guide you through how to create a disaster preparedness plan for your organization following the standards used by the US Department of Homeland Security. (2 Hours)
Earthquake Preparedness
This training program provides basic knowledge on earthquakes and simple steps toward safety and mitigation in homes and businesses with the goal of reducing the loss of life and property damage from an earthquake. This training
includes a hands-on demonstration of how to mitigate risks. (2 Hours)
Fire Safety
The workshop will recap on what attendees may have previously learned about potential dangers, including matches and cooking safety. It will teach attendees how to identify the sound a smoke alarm makes, and reinforce what they should do if they hear a smoke alarm. It also covers fire extinguisher use and other fire safety tips. (2 Hours)
Fire Warden Training
Designed to educate your emergency response team members on the rationale of basic emergency procedures. The focus is on responsibilities of the team members, site-specific emergency procedures, and a discussion of the life safety features of the building. (1 Hour)
Hurricane Preparedness
This course is designed to provide basic information about how hurricanes form, the hazards they pose, how the National Weather Service (NWS) forecasts future hurricane behavior and how to prepare for possible evacuation. (2 Hours)
Incident Command Boot Camp
This course helps organizations in complying with Homeland Security Presidential Directive #5 requiring the use of the Incident Command System (ICS) in emergencies and disasters. Participants will learn how to obtain NIMS compliance, describe the application of ICS to incidents and explain the purpose of unified command and span of control. Includes hands on activities to enhance application.
(7 Hours)
Intermediate ICS-300 for Expanding Incidents
(2019 Ed.)
Enhance your Incident Command skills, with a special focus on new concepts of the Incident Command System (ICS). The training and resources provided in this course will assist personnel who require advanced application of the ICS. The course will also benefit any person who has a responsibility to function in a command post managing an expanding incident.
You will participate in group activities that introduce the development of the Incident Action Plan (IAP) and demonstrate the interactions between the Command and General Staff sections of the ICS. (20 Hours)
Advanced ICS-400 Command And General Staff-Complex Incidents​ (2019 ed.)
Enhance your Incident Command skills, with a special focus on new concepts of the Incident Command System (ICS). The training and resources provided in this course will assist personnel who require advanced application of the ICS. The course will also benefit any person who has a responsibility to function in a command post managing an expanding incident.
This course builds upon information covered in the ICS-100, ICS-200, and ICS-300 courses and explains the roles and responsibilities of local, county, state, and federal agencies involved in managing an expanding incident.
You will participate in group activities that introduce the use of an Incident Complex and Area Command, and the interactions between Multi-Agency Coordination (MAC) entities. (14 Hours)
Lay Search And Rescue

Experience from previous disasters has shown that immediately after almost every disaster, the first response to trapped victims is by spontaneous, untrained, and well-intentioned persons who rush to the site of a collapse in an attempt to free the victims. This course will explain scene size up, search and rescue for the lay rescuer. (4 hours)
Situational Awareness for Office Staff
Situational Awareness is a frame of mind in which you are aware of your surroundings and also aware of whom or what could be of help to you if a problem were to arise. This training provides your employees with the foundation of gaining knowledge of crime as a process, improving awareness of surroundings, providing effective crime avoidance strategies and reinforcing the importance of obeying intuition. (1.5 or 4 Hour option)
Business Continuity: A Simple & Practical Approach
Emergency Preparedness for School Staff
Emergency Preparedness for Youth
Event Management and the Incident Command System
Facility Response Plans: A Critical Resource
High Consequence Infectious Diseases: A First Hand Perspective of the Dallas Ebola Response
Innovative Leadership in the Online Learning Environment
Improving Safety Performance
Opening a Presidential Library: Preparation and Coordination To Host 5 Living U.S. Presidents
Reduction of Fire Risk and Cost Through Enterprise Risk Management
Social Media Strategy for Emergency Management